Hollywood is the last step of our trip. We walk on Hollywood Boulevard, following the Walk of Fame among the stars :
Hollywood Boulevard : (the stars are on both sidewalks)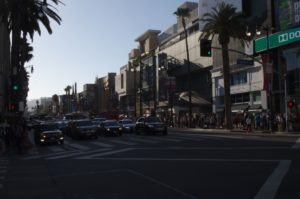 We stop in front of TCL (formerly Grauman's) Chinese Theatre to look for the footprint of the artists we know. It's a bit difficult as there are a lot of people standing on it.
Hollywood is the place were all the big American studios are, most of them have a theme park to show their universe to tourists.
Here is the entrance of Universal Studio :
And that was our ultimate visit, we now have to go to the airport to get back to France !
If you liked this blog, come back next year for our next trip !
And if you liked the pictures, have a look at my gallery : https://piwigo.caille.fr/ , I will soon post all the pictures of this trip.
If you noticed a lower quality in the last few days pictures it's normal, I had some trouble with my camera (the aperture motor is dead), sorry for that.