Los Angeles is a huge city, its urban area host over 12 million people.
We haven't spent much time in the city, as there isn't that much to do. But I still have some pictures, here is the City Hall :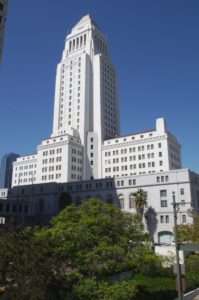 And the LAPD headquarters :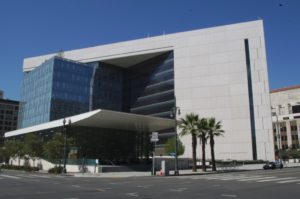 The particularity of this city is that it spreads over kilometers and kilometers : the population density of the city is 67 (!) times less than Paris.
If you look at a map and zoom out, it looks like a fractal : infinite blocks, crossed by street, boulevards and freeways.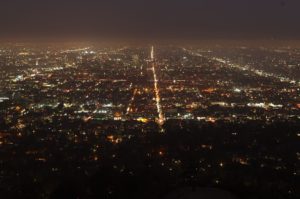 We were quite impress by the number of freeway in LA, you have to take a freeway to go anywhere in LA. And they are not small one, most of theme are between 4 and 6 lanes (for each side).
Actually in LA you can't do much without a car, it's the main transportation way. And the city is the most congested of all the United States.
An other particularity of LA is the population disparity, on one side there are homeless people everywhere under the freeways; and on the other side Beverly Hills host huge and luxurious villas.