We now leave Nevada to enter Arizona and to visit Grand Canyon.
It's quite impossible to reproduce Grand Canyon with pictures. A simple photography cannot give the impression of vastness you feel when looking at the Canyon. It's also too big to fit in a single photo, my widest shot only show a fraction of it. This picture show a "subcanyon", the "grand" canyon cross the picture from right to left.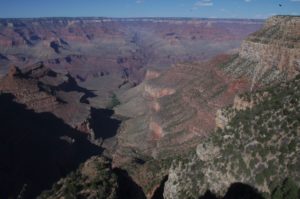 There is so much to see that you could stay watching for hours, admiring the power of water, digging steadily, slowly but surely, until several millions years transformed a flat plateau into such a huge canyon. The Colorado river has now digged 1800m deep, exposing rocks that are more than a billion year old.
Grand Canyon is a National Park and host a wide variety of wildlife. Here is a rock squirrel :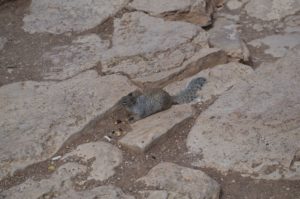 And a condor :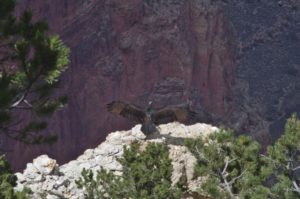 The sun is setting, it's time to leave …